Hours
Lunch Monday through Friday from 11:30 till 2pm                Dinner Monday through Saturday from 5:00 pm
Reservations
Dinner Reservations suggested.

---
History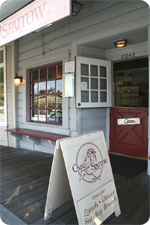 Located in the historic turn of the century Aptos post office and general store, this quaint two room restaurant with its open kitchen, combines traditional french stocks and sauces with a California flair. The weathered wood floors, printed and lace tablecloths, and fresh flowers create a comfortable environment for relaxing and dining. Why not dine where the locals choose to eat when they want the best food in a casually elegant atmosphere. The service is always friendly and never pretentious. Whether you've just come off the golf course or you're dressed to the nines, you are sure to feel at home at Café Sparrow in picturesque Aptos Village.
---
Our Staff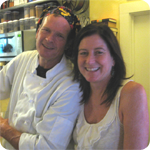 Julie Montague
General Manager & Owner
– Julie is primarily responsible for the décor of Café Sparrow. She also manages the front of the house staff and books larger parties for the restaurant. Julie makes an effort to hire and train friendly and knowledgable servers.
Bob Montague Chef & Owner – Bob, before taking over Café Sparrow in 1989, "could burn water". Although he had substantial hospitality experience, both locally and in New Orleans, Bob had never cooked before taking over the Sparrow. 22 years later, he continues to learn from, and teach, the variety of fine cooks who have regularly passed through Café Sparrow. While a great deal of the creativity of Café Sparrow comes from some of our young and eager minds, Bob's primary role has been to ensure that we stay true to our concept as a country French bistro, and consistent in the quality and palate that we present to the public.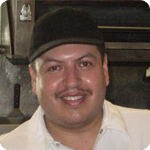 Ruben Arenas Ponce
Chef de Cuisine
– Ruben has been with Café Sparrow for over 10 years. Along with Pancho, he runs the daytime kitchen and is predominantly responsible for the wonderful soups that Café Sparrow has featured over the years.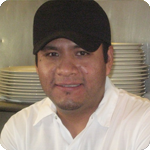 Francisco Diaz Torres
Pastry Chef & Chef de Cuisine
– Francisco (Pancho) is the man who takes on the most roles. In addition to running the daytime kitchen with Ruben, he also maintains quality control and recipe standards for our salad dressings and cold sauces. He also is responsible for the fine desserts for the restaurant.